Microsoft 365 in The Construction Industry
Leveraging technology to build a competitive advantage.
For years, the construction industry has been one of the most stable sectors in the United States where it accounted for nearly 4% of our country's GDP in 2019. Even though this torrid pace had slowed slightly in 2020 – it was far from being stagnant. As new technologies are adopted across industries around the world, construction organizations are slowly beginning to realize the benefits in leveraging the tools available within Microsoft's 365 Suite of products.
Although the construction industry currently lags other industries in the implementation of technology, At Oakwood we believe that technological advancements can play a significant roll in boosting productivity and driving operational efficiency through more effective communications, collaboration, business process automation, business analytics, and project management.
Below we take a look at some of the trends that we're seeing within this industry and examine how adopting available technologies can make your organization more efficient and profitable.
Construction Case Studies
Here's just two of the recent projects we've had the opportunity to assist with.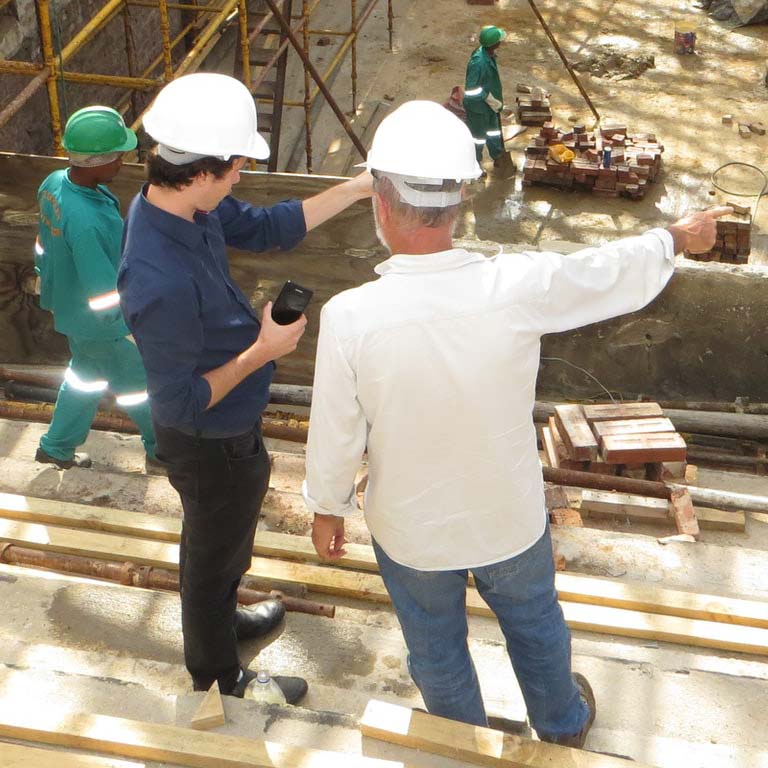 ---
Current Challenges & Trends and How Microsoft 365 Can Assist
THE NEED FOR STREAMLINED COMMUNICATION & COLLABORATION
What the foreman sees in the field needs to be the same as what the office sees from their desktops. Unfortunately, the information accompanying a project can get lost in emails and chats, making it difficult to track the latest versions of documents and progress of both on-site and back-office operations. Online access to important files in OneDrive, SharePoint or Teams enables real-time document editing, sharing, and collaboration all from directly within a document.
CREATING A SINGLE-SOURCE OF TRUTH
Because all Office 365 applications sync, it doesn't matter if your coworker is editing a document from their desktop Word, Excel, PowerPoint app, or SharePoint Online. If everyone is connected to the Internet and working on the same SharePoint document, edits will be made in real-time, and members can collaborate via chat directly within the file.
VISUALIZING PROJECT & PROGRESS REPORTS
Like Teams, Power BI integrates with all Office 365 applications, which means you can use tools like Power Automate to streamline processes for tracking and sharing data via Power BI. Such processes may focus on communicating real-time data on worksite progress and costs from the field to the office or help automate form fill requests for gathering information about a specific job from specific people.
ENABLING EFFICIENT & SECURE PROJECT MANAGEMENT COLLABORATION
Microsoft Project Online and Teams are tools to enable efficient project management and collaboration. These tools allow your internal and contract resources to work together, and your intellectual property is protected through proper security measures. The structured nature of Project Online also allows you to more effectively resource your projects, track your variances, and get projects done on time.
WEARABLES / INTERNET OF THINGS (IoT)
IoT is an invaluable part of the smart building lifecycle, even before the building comes to fruition. On construction sites, it's imperative for companies to prioritize employee safety while ensuring the job is completed on time and with the utmost quality. Microsoft offers a variety of services that come together to help construction companies onboard devices that can inform them about their site, model their physical world, and visualize data in the right context.
GAINING ACTIONABLE INSIGHTS FROM BIG DATA
We at Oakwood believe that good data practices and a solid data strategy will continue to help construction companies develop and implement sophisticated analytics plans in the years ahead. We work with our clients to take advantage of business intelligence (BI) tools like dashboards, which store well-defined data in a central location where it can be displayed in a visual format for easier consumption. This enables users to aggregate separate data streams and compare the information within them in a single place and monitor performance in real time. By including some level of machine learning (ML) and artificial intelligence (AI) will help users in gaining insight from data and make predictions, discover relationships between data points, identify customer or market segments more intelligently, and identify and learn from patterns hiding in large or unwieldy data sets.
---
To learn more about how we can help your organization become more efficient and profitable by investing in technology, please contact us today.