Microsoft Sentinel Security Essentials
Get end-to-end visibility across your resources, including users, devices, applications, and infrastructure.
Get started by downloading Oakwood's Microsoft Sentinel Security Essentials PDF. This 2-Week engagement allows you to test the features & functionality of this powerful SIEM & SOAR solution within your organization.
Microsoft Sentinel allows users to see and stop threats before they cause harm, with SIEM reinvented for a modern world. Microsoft Sentinel is your birds-eye view across the enterprise. By implementing Sentinel you'll be putting the cloud and large-scale intelligence from decades of Microsoft security experience to work. Make your threat detection and response smarter and faster with artificial intelligence (AI). Eliminate security infrastructure setup and maintenance, and elastically scale to meet your security needs—while reducing costs as much as 48 percent compared to traditional SIEMs.
Microsoft 365 FREE Data Sources
Did you know?
The following Microsoft 365 data sources are always FREE for all Microsoft Sentinel users as an ongoing Microsoft Sentinel benefit.
Azure Activity Logs
Office 365 Audit Logs (all SharePoint activity and Exchange admin activity)
Alerts from Microsoft Defender for Cloud, Microsoft 365 Defender, Microsoft Defender for Office 365, Microsoft Defender for Identity, Microsoft Defender for Endpoint and Microsoft Defender for Cloud Apps.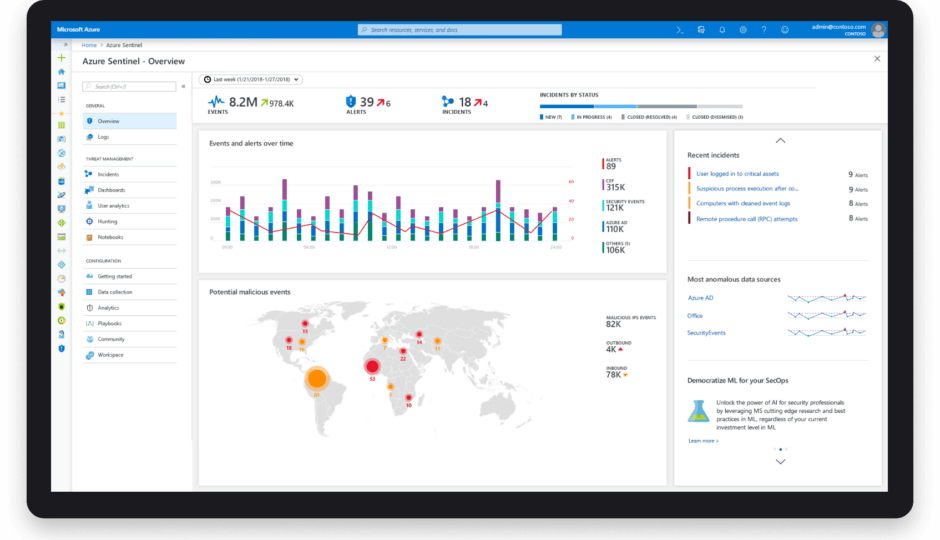 A Match For All Your Tools
Connect to and collect data from all your sources including users, applications, servers, and devices running on-premises or in any cloud. Integrate with existing tools, whether business applications, other security products, or homegrown tools, and use your own machine-learning models. Optimize for your needs by bringing your own insights, tailored detections, machine learning models, and threat intelligence.
For more information on how we can help you implement and manage the Microsoft Sentinel SIEM solution for your organization, please contact the Azure Security Experts at Oakwood today!