Threat Protection
Stopping threats with integrated SIEM and XDR solutions.
Now that we've shown you how we secure your identities and use authentication, let's discuss how we further secure your organization from today's evolving threat landscape with Microsoft's threat protection solutions.st protect your identities to protect your data and resources.
In today's complex organizations, Microsoft's industry-leading threat protection solutions help you defend across modern attack vectors. Microsoft's threat protection empowers your organization's defenders by putting the right tools and intelligence in the hands of the right people. The nature of attacks is constantly evolving. The way we think about defense must keep up.
Stay ahead of attackers with a unified SecOps experience: Threat-protection solutions from Microsoft deliver best-in-suite, integrated, automated security to help defend against modern attacks..
Gain insights across your entire organization, end-to-end, with the cloud-native Security Information and Event Management tool (SIEM) Microsoft Sentinel.
Detect and respond across attack vectors with Microsoft 365 Defender and Azure Defender, extended detection and response (XDR) solutions.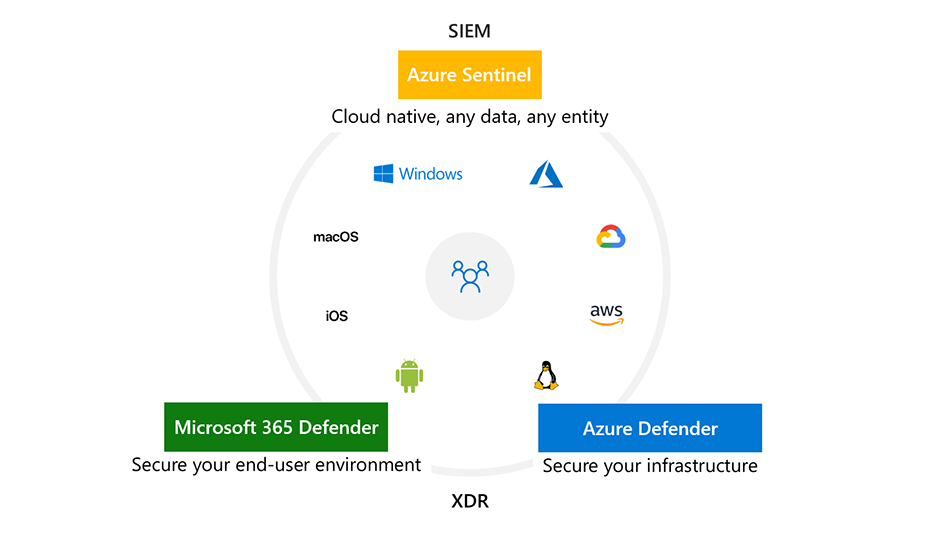 Our approach to your security is to understand both the breadth and depth of your entire estate, and look at everything going on, end-to-end.
Our breadth approach is delivered with Microsoft Sentinel, Microsoft's cloud native SIEM (security information event management tool). A SIEM is a tool that aggregates logs from all a company's sources (OS, application, antivirus, database, or server logs) and analyzes large quantities of data from one place, searching for anomalies and signs of a threat.
The depth is delivered through Microsoft 365 Defender and Azure Defender. XDR is an emerging technology in threat protection that helps address the need for security operations teams to increase efficiency and effectiveness to get ahead of today's threats.
Endless lists of alerts from a multitude of security point products makes it difficult for defenders to link those effectively and at speed to contain a threat. XDR delivers an intelligent, automated, integrated security to close gaps in prevention, detection, and response. Microsoft offers the most comprehensive XDR available on the market today with Microsoft 365 Defender and Azure Defender.
MICROSOFT SENTINEL
Microsoft Sentinel helps make it easy to collect security data across your entire hybrid organization—from devices, users, apps, servers, and any cloud. Microsoft Sentinel uses the power of AI to help you quickly identify real threats and releases you from the burden of traditional SIEMs by eliminating the need to spend time on setting up, maintaining, and scaling infrastructure. Since it's built on Azure, Sentinel offers limitless cloud scale and speed, and scales automatically to address your needs.
MICROSOFT 365 DEFENDER
Microsoft 365 Defender is a fully integrated detection and response (XDR) solution. It provides organizations with the ability to prevent, detect, investigate, and remediate attacks within their Microsoft 365 and other platforms. Microsoft 365 Defender automatically detects breaches, automating the normalization, analysis, and correlation process to turn siloed alerts into end-to-end incidents with context and timelines of how an attack has entered and spread across the environment.
AZURE DEFENDER
Azure Defender provides a competitive, cloud-native extended detection and response (XDR) solution for Windows and Linux servers, containers, and serverless workloads that have been widely adopted across Azure and hybrid customers. Azure Defender benefits from the Microsoft intelligent security graph, which uses trillions of signals from Microsoft services and systems around the globe to help identify new and evolving threats. 
To learn more about how the Oakwood Team can assist in helping you implement the tools discussed above, please contact us below.